"Devotion" is a big deal, mostly because it's the first big-budget studio movie about the Korean War since Gregory Peck starred in "Pork Chop Hill" in 1959. It's also a big deal because it's the first Navy aviation movie to be released in the wake of "Top Gun: Maverick," and the filmmakers successfully adopted many of the filming techniques that made that Tom Cruisemovie such a thrill.
Compared to "Top Gun: Maverick," Director JD Dillard and his crew experienced a far greater degree of difficulty on "Devotion" because they did their aerial filming with some of the few Korean War-era vintage aircraft that are still able to fly. That's because the old planes are harder to maintain than their newer counterparts, and most of them have only a few more years in the air at best.
"Devotion" tells the story of the friendship between Ensign Jesse Brown, the first Black Navy aviator, and Lt. Thomas Hudner Jr., a Naval Academy graduate who became Brown's wingman. The aviators saw combat in the Korean War, flying Corsairs to provide air support for Marines fighting in the Battle of Chosin Reservoir in December 1950.
Hudner was awarded the Medal of Honor for his attempts to save a fellow aviator during the battle and spent the rest of his life honoring those who were lost during it. Brown is played by Jonathan Majors ("Lovecraft Country," "Da 5 Bloods") and Hudner by Glen Powell ("Top Gun: Maverick"). Both men give powerful performances that honor the memories of the two aviators.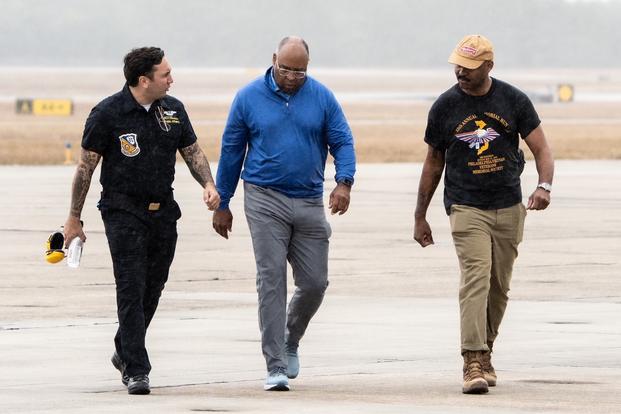 JD Dillard is the son of Bruce Dillard, a Naval aviator who was the second Black member of the Blue Angels and JD grew up around planes and military culture. There may have been no other person more qualified to make a movie about the Navy's first Black aviator than JD Dillard.
To celebrate the release of the movie, the Blue Angels invited JD for a fly-along at Naval Air Station Pensacola and we've got the first look at what it was like for JD to follow in his father's footsteps.
We interviewed JD about his dad's military career and how growing up in a military family impacted his work on "Devotion" just days after the flight. He was still incredibly pumped from the experience.
That conversation was so much fun that we got on the phone a few days later to talk more about the details behind this incredibly moving picture.
Any movie fan can list dozens of films about World War II or the Vietnam War without much thought, but Korean War movies are few and far between. Dillard suggested a reason for that.
"It's sandwiched between two very loud wars. When you have a war like World War II, which is fully the same generation, but the lines of good and bad, ally and foe are just so much more clear," he said. "With the Korean War, you're starting a very different type of warfare and a very different political environment. There's a lot more gray, so it makes sense why history leans heavier on World War II. But Jesse and Tom's story was certainly one that just felt so unbelievable and needed to be shared with more people."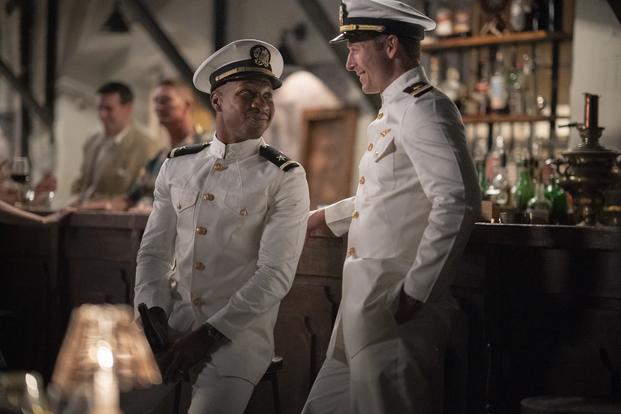 While "Devotion" is most definitely a war movie, the filmmakers really wanted to focus on character and the relationship between Jesse Brown and Tom Hudner. Dillard said, "'Devotion is, of course, by definition, a war film. But in terms of the layering of the story, it was always more important that the war was the backdrop to the story of these two men and the folks around them."
"We would joke a lot that we wanted it to be more 'Shawshank Redemption' than 'Saving Private Ryan,' in that the fundamental drama of the film is the relationship between Jesse and Tom set against this backdrop of an inescapable conflict for them."
While Dillard said the relationship between Jesse and Tom is the heart of the film, I'd argue that its portrayal of the relationship between Jesse and his wife Daisy is at least as central to the movie as Brown's friendship with Hudner.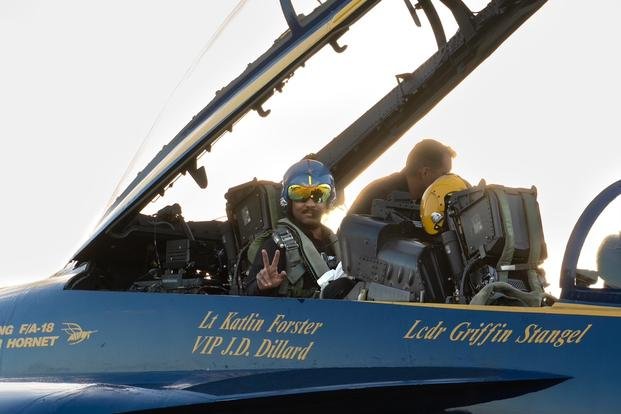 Dillard agrees, and said his own experience as a military kid informed that part of the movie. "There's sort of an unfortunate adage, you hear it when you start the process of making a movie about service members," he said. "People tell you, 'If you need to get more action, just cut the family stuff.' The team on this film knew that we could never do that. To cut the family aspect out of this movie would cut the heart out of it.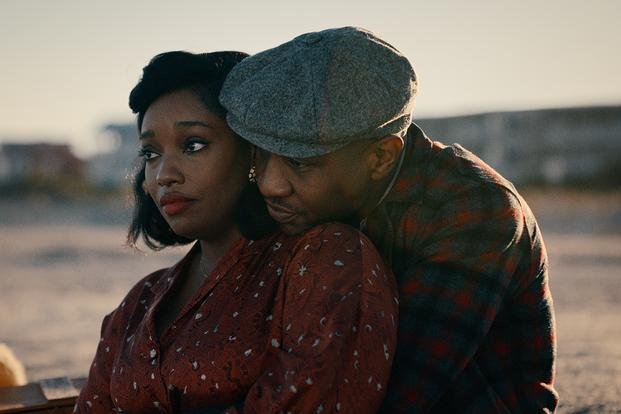 "That was also one of my strongest points of connection to the story. I went to my dad and my mom, and I was like, 'Okay, Dad, before I do another pass on the script, what was it like to tell Mom that you're going on cruise for the first time and leaving her with a newborn?' You know, Mom, 'What was it like to hear that news?' I think it's just as important to honor the stories back at home, and what that experience is, as it is to tell the story of the folks that are leaving, because the two sides of that equation power each other."
The personal stories of Jesse Brown, his family, Tom Hudner and the other men who flew as part of their VF-32 unit are reason enough to see the movie. You can enjoy and be inspired by Brown and Hudner's story without really thinking about the details of how that story made it to the screen. If that's the case, stop reading now and go buy a ticket.
If you're interested in all the gritty details of how JD Dillard and the movie's crew managed to get vintage Korean War-era planes into the air and give audiences a real chance to see what the actual aviators experienced during the conflict, keep reading. We're about to dig deep into the moviemaking process.
But before we go there, let's fill everyone in on the difference between "in camera," "practical" and CGI. When a filmmaker talks about "in camera," they are saying that the camera captured an image of something that was happening in physical reality. Part of what was so magical about "Top Gun: Maverick" is how much of the flying footage was actual planes flying in the air. "Devotion" adopted many of the same techniques to capture vintage planes in the air.
"Practical" effects are images that are created to be captured by the camera. You can think of a squib exploding fake blood in a movie shootout as a practical effect. Filmmakers also use the term interchangeably with "in camera" sometimes, and that's what JD will be doing here.
Finally CGI is computer-generated imagery. Most of the action in a Marvel movie was created inside computers after actors were filmed in front of a green screen that allows techs to paint in the background later. There are some CGI effects in "Devotion," but they're used to flesh out backgrounds and create additional planes in a squadron. The planes near the front of the frame are almost always real.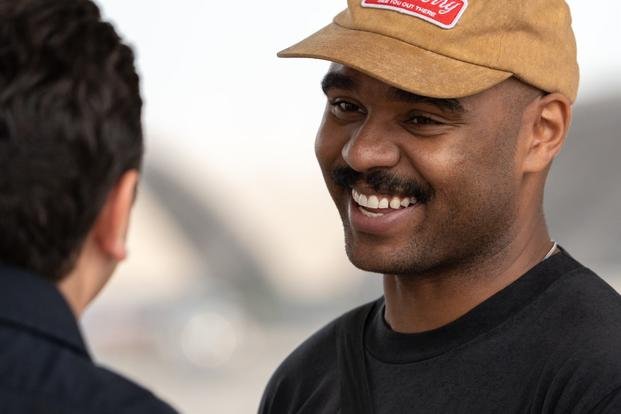 Dillard feels that his childhood experiences watching movies with his father were a huge influence on his work. "I have more than 30 years of movie watching with my dad sitting next to me leaning over and saying, 'That's not how those planes move. It's not what it looks like, it's not what it feels like,'" said Dillard. "When I came on board, one of the first things that I wanted to do was establish that we had to put as much of this in camera as possible. We had to shoot as much of this for real as we can, because the audience is smart."
"The folks that really care about aviation and this era are going to know. The first thing we did was try to source the aircraft. Since these planes are 70 to 80 years old, if not older in certain cases, finding them is difficult," he said. "I'm not positive but I think there are like 12-ish Corsairs still flying. At the height of production, we had six of them."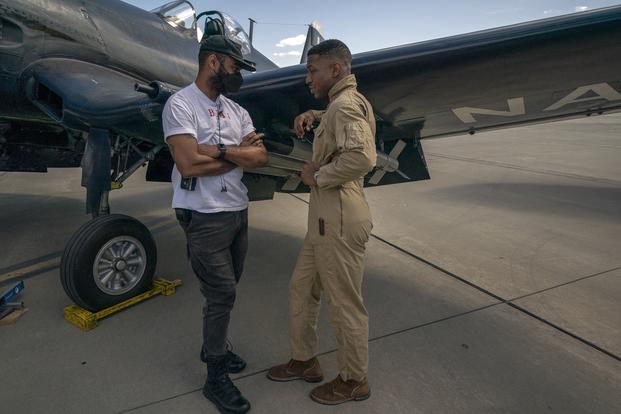 Dillard described the way they mapped out the aerial scenes, and the experience sounds a lot like what you did when playing with model planes as a kid. "It's a slow, meticulous process of first rehearsing first with planes on a stick with an iPhone to set the shots," said Dillard. "Okay, these planes are going to do this. It's like when you're 13, making zoom noises with your mouth as they're banking out."
"Then you essentially edit the sequence to map out the storytelling. That escalates to a 3D rendering of your backyard playground version of the scene," he continued. "Then we give those rough 3D renderings to Kevin LaRosa, our aerial coordinator, and his team. Then, shot by shot, we look at it. 'Okay, so we've got two planes and the left Corsair hard banks and the cameras are going to pan with that plane."
"One by one, they fly to altitude chasing the Corsairs, and a jet that has a camera mounted on the nose, and we shoot those scenes and check them off. It's a really insane and meticulous and tedious process, but it does give you the sense of being there with them," Dillard enthused.
"One thing I learned on 'Devotion' is that 'in camera' is not just a practical approach. I also think that it's an aesthetic. I want to say there are close to 1,100 visual effects shots in the film, so it's not to say that there are there is no CGI in 'Devotion,' but I think that you can approach the film with an aesthetic of 'in camera' where it's okay to realize that the camera's only going to do what cameras can do. You can make the action happening closest to camera practical. Where there's less fidelity and you can't quite see as well, the action can be CG. There's a way to build and shoot and light things to be motivated by an 'in camera' aesthetic, even if, in actuality, you are using visual effects."
The director offers a great breakdown of what's in camera and what's visual effects in one of the movie's most thrilling scenes. "As a case in point, I'll use Jesse's river run as an example," Dillard explained. "Jesse peels out of formation, and goes down to the river to take out the bridge. He's hauling ass about 15 feet over the water. What is real in that shot is the plane at that altitude. We used visual effects because we needed more snow on the ground behind, I wanted better mountains, I needed to change the weather a little bit to match some other shots that we had. Obviously, the machine gun fire zipping across the water is not practical. I needed more armament on Jesse's plane, so we added missiles.
"The reason why you're excited about the shot is that plane over the water, and I think the difference is knowing exactly where you're going to deploy your visual effects and not just to paint with a broad stroke. Get as much as you can in the frame and then build it out from there."
Keep Up With the Best in Military Entertainment
Whether you're looking for news and entertainment, thinking of joining the military or keeping up with military life and benefits, Military.com has you covered. Subscribe to the Military.com newsletter to have military news, updates and resources delivered straight to your inbox.
Show Full Article
© Copyright 2022 Military.com. All rights reserved. This material may not be published, broadcast, rewritten or redistributed.